For the vast majority of SME sized businesses, cash is king and not everyone can justify fitting a Draytek or Sonicwall into their budget for a new router. In the past we've leaned towards budget brands to fill this gap in our arsenal but as of late we've noticed little to no development of features leaving us in search of a competitively priced product that meets the minimum requirements an SMB business need to keep things running smoothly and securely.
At ITW4 we like to put the products through their paces before putting them out the door to any of our clients, at the end of the day if a product sucks we're going to be spending time picking up the pieces when things go wrong with it which isn't wise.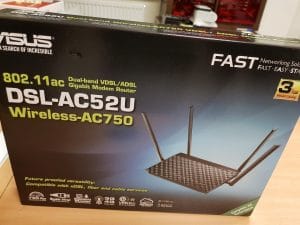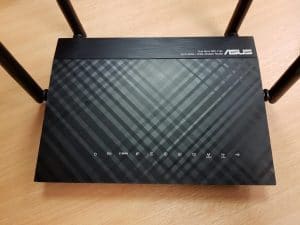 The Asus DSL-AC52U comes in under £100 and has quite a few good features that we look for in a business grade router, so we thought we would check it out.
VDSL2/ADSL2 Compatibility – Regardless of your line type this will fit the bill. It allows us to fit a single piece of a equipment, no need for a seperate VDSL modem.
Triple WAN – Allows 2 fixed lines to be hooked up (DSL + Ethernet) plus a 4G dongle so that a load balanced or failover set up can be put in place. This ensures that if one of the lines go down, the other ones will pick up the slack giving your business broadband robustness and redundancy.
Gigabit Ethernet – Most of the budget routers come with 100mbps switching, with 1gbps you have 10 times the bandwidth available for locally wired devices, a no brainer really.
Firewall – Allowing us to block any unwanted access to your network, keeping your devices safe whilst allowing us remote access to the network to respond efficiently to issues.
Content Filtering – We all know that staff like to use social media during their lunch breaks, but it can be unproductive if their constantly sitting on Facebook. This allows us to block any problem sites with ease.
AC WIFI – The demand on wireless networks is ever growing so having a decent wireless router is a must for most businesses. 5GHz is the way forward on this and the little ASUS has plenty of it.
How did it perform?
We pushed a lot of traffic through this device, despite the SoHo appearance it behaved admirably, we attacked it from the WAN and WiFi side and both certainly came across as secure, but with this being a somewhat new to the market device you would hope that it was hardened to such things. We tested the content filtering and were pleased to see it worked with both SSL and Non-SSL sites meaning it was extremely easy to block social media. The WiFi range with the assortment of antennas was very good. The device ran cool to the touch at all times.
As with all products there's plenty more features, but the above ones are important to us. Some of the others include, SMB server via USB hard drive, Traffic shaping/monitoring, Bandwidth limiter etc.
Overall the router appears to punch above its weight in terms of features and quality. It may look horrible to some people with those 4 antennas poking out the top and sides but if it works then it works, it's not a beauty contest.
We like the AC52U, for the price this router works well and if ASUS's other hardware is anything to go by it will faithfully tick away in the corner for years to come.
For an SME sized business with no IT budget it should provide trouble free internet access. For larger businesses however we always always recommend a network security appliance.